PDF Mix Tool
About
PDF Mix Tool is a simple and lightweight application that allows you to perform common editing operations on PDF files.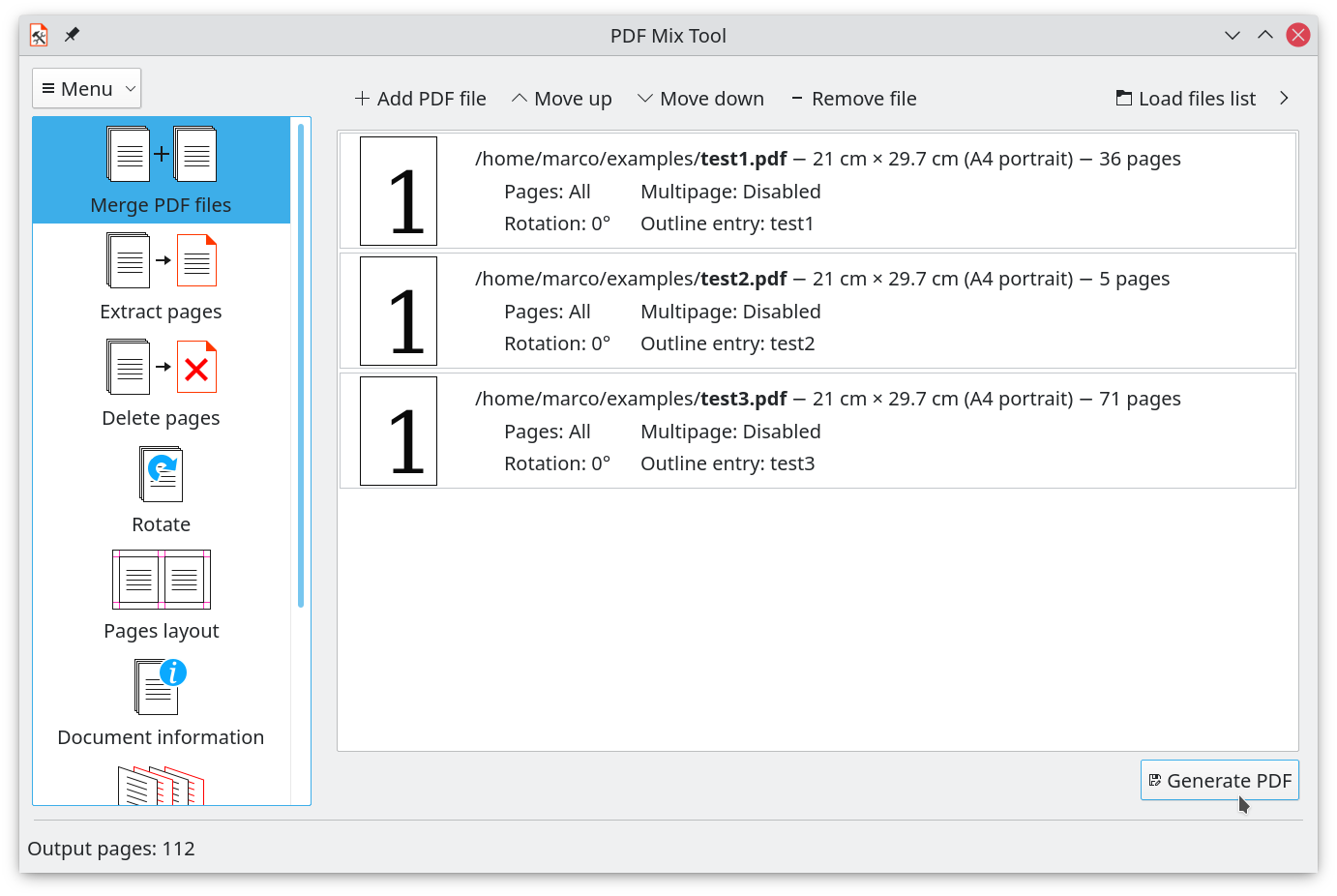 Base operations it can perform are the following:
Merge two or more files specifying a page set for each of them;
Rotate pages;
Composite more pages onto a single one (N-up);
Combinations of all of the above.
Besides, it can also mix files alternating their pages, generate booklets, add white pages to a PDF file, delete pages from a PDF file, extract pages from a PDF file.
It is written in C++ and depends only on Qt 5, qpdf and PoDoFo.
PDF Mix Tool is a free software distributed under the terms of the GNU GPLv3 license.
Download
You can download the source archives of each release here.
The source repository is hosted on GitLab.
Installation
Using Flatpak
PDF Mix Tool is available on Flathub. You can install it with the following command:
flatpak install flathub eu.scarpetta.PDFMixTool
Using Snap
PDF Mix Tool is available on the Snap Store. You can install it with the following command:
sudo snap install pdfmixtool
On Arch Linux
PDF Mix Tool is in the community repository. You can install it with the following command:
sudo pacman -S pdfmixtool
On a generic GNU/Linux distribution
To install PDF Mix Tool on a generic GNU/Linux system download the source archive of the latest release, decompress it and run the following commands inside the "pdfmixtool-x.x" directory:
mkdir build
cd build
cmake .. -DCMAKE_INSTALL_PREFIX=/usr -DCMAKE_BUILD_TYPE=Release
make
sudo make install
On Fedora install the following packages before the build process:
sudo dnf install qt5-devel cmake qpdf-devel podofo-devel
Usage
In "Multiple files" mode:
Add PDF files clicking on the "Add PDF file" button;
Double-click on the entry of a file to edit it;
Set page filters using the format "1-5, 7-10, 15, 19" or "1-5 7-10 15 19". Leave the field blank to include the entire file;
You can use overlapping intervals, pages will be replicated;
Set multipage profile for each file;
Set page's rotation for each file;
Set the outline entry (table of contents entry) for each file;
You can add the same file more times;
Generate the output file clicking on the "Generate PDF" button and selecting the destination file.
Check "Alternate mix" to alternately add pages from the input files to the output file. Double-click on each file to select the order in which adding pages to the output file.
In "Single file" mode click on "Open PDF file…" to select the file you want to edit. Then select the desired operation in the list on the left, adjust options and finally export the file using the buttons near the bottom-right corner.
Contribute
Screenshots
In this section there are some screenshots of PDF Mix Tool while executing some common tasks.